Welcome to Inky's Action Wobbles Co-Hop! We're excited that the Inky Antics and Action Wobbles Design Teams are hopping together this month. If you've come from
Michelle's
blog
you are in the right place. If you have just happened upon my blog the start
Here
.
For my project I used
Halloween Turtle Clear
Set
#10921MC drawn by artist Tammy DeYoung, along with an Action Wobbles spring to create this project.
The blog hop starts today and ends tomorrow at midnight. Please visit each DT members' blog to view their projects and leave a comment for each designer. The more you comment, the better your chances are to win. (Limit one comment per blog, please). Inky Antics will be drawing
THREE
people's names at random, who will each receive an Inky Halloween clear set and a dozen Action Wobbles. The winners' names will be announced on the Inky Antics(insert link) blog on Monday morning, so remember to stop back and see if you've won. The Action Wobbles folks will also be sponsoring some fun blog candy, so be sure to check out their prizes, too!
Your next stop will be
Debbie's blog
. Thanks for wobbling with us!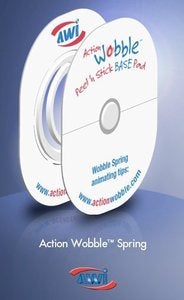 Need some Action Wobbles?
Get them
HERE
.
Here's the entire lineup in case you lose your way.
Main blog for Inky Antics -
http://inkyanticsrubberstamps.blogspot.com/
Main blog for Action Wobbles -
http://www.action-wobbles.com
Theresa –
http://www.thescrapbookingqueen.com
Crazy About Cricut -
http://www.crazyaboutcricut.blogspot.com/
Michelle -
http://inspirationblooms.blogspot.com/
Tricia -
http://lshdesigns.blogspot.com/
Debbie -
http://debbiedee.blogspot.com/
Kate -
http://www.scrapperscreativecorner.blogspot.com/
Jovi -
http://jovikloess.blogspot.com/
Monica -
http://scraps2treasure.blogspot.com/
Trudy -
http://truesgiftsfromtheheart.blogspot.com/
Heather -
http://greenscrapinmachine.blogspot.com
Crystal -
http://crystalkbk.blogspot.com/
Midge -
http://scrappintoxicmidge.blogspot.com/
Jackie -
http://inkyanticsrubberstamps.blogspot.com/
Madge -
http://www.thescrappinlounge.com/
Sherri -
http://squeakyscrapper.blogspot.com